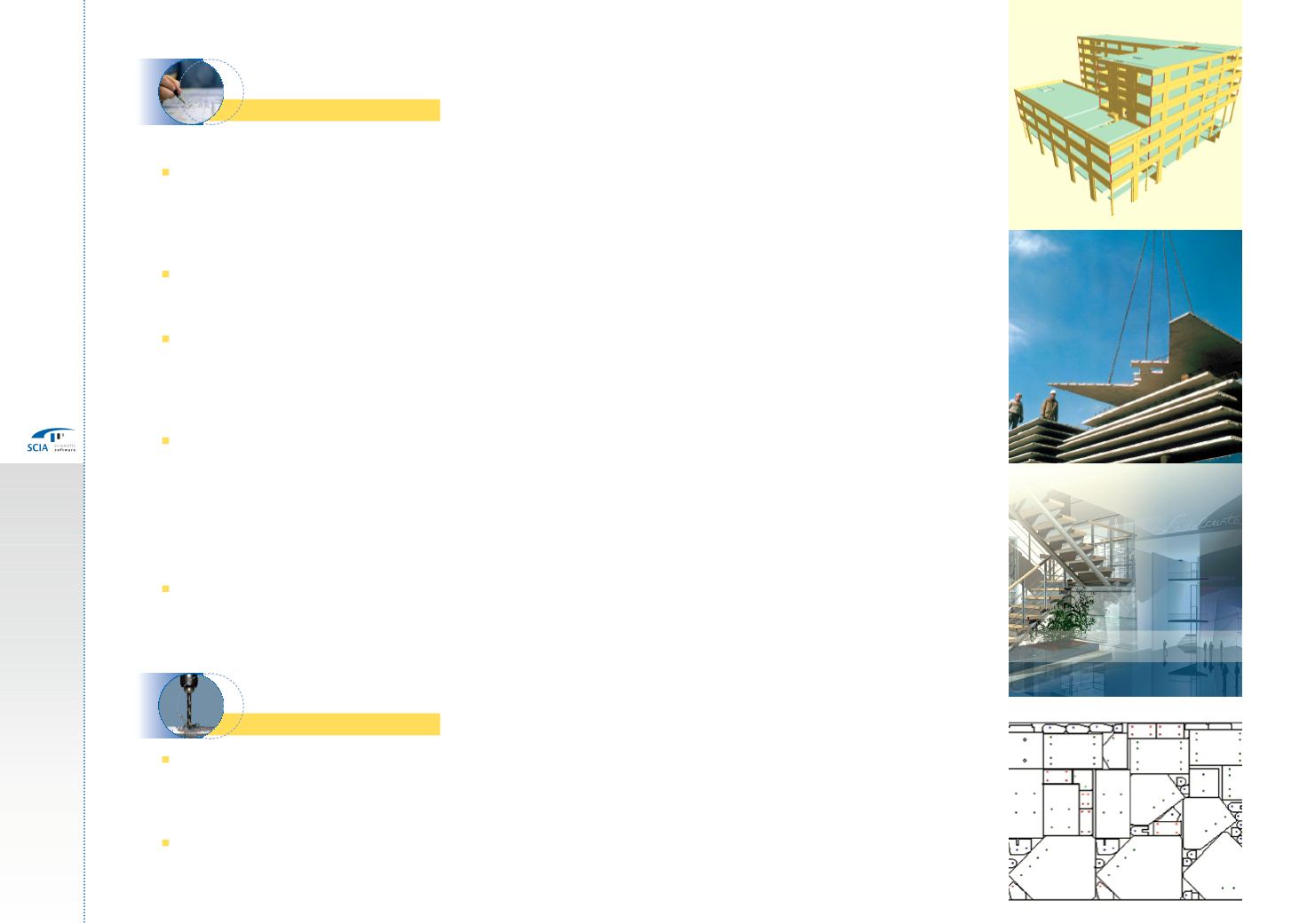 SCIA User Contest 2005 / Company Profile
Allplan Engineering - Concrete
Allplan Engineering is an intelligent CAD system for civil and construction engineering.
Allplan Engineering fits seam-
lessly into the building design process, either directly through Allplan Architecture, our architecture solution, or via
interfaces to third party systems meeting the expectations of today's modern engineer.
formwork and steel reinforcement.
3D Modeling of steel structures with templates: overview drawings, connection details, bill of material, optional
Allplan Precast Concrete is a new software solution for the design,
manufacture and delivery of pre-fabricated
concrete elements offering new possibilities for the design and manufacture of pre-fabricated floor and wall
Allplan Precast is an easy to use, intelligent solution which increases productivity and ensure seamless
integration in the production process.
SCIA Floor software offers you a total solution for concrete prefab floors. It supports hollow core slabs, lattice girder
slabs, ribbed slabs, beams and blocks.
Hollow core, lattice girder slabs and ribbed slabs can be reinforced and pre-
stressed. The total solution comprises many features such as order intake, positioning plans based on AutoCAD, piece
list from positioning plan, fabrication lane planning, transport planning, calculation of the necessary reinforcement and
Allplan Architecture is an easy-to-use, intelligent architectural software that offers an integrated approach to the
building design and drawing process.
Whether a one-man practice, start-up company, a recently formed partnership
or an established practice, there is a suitable Allplan Architecture package for every need.
SCIA•Steel is an integrated software-solution to optimize the steel construction-fabrication-process, production rout-
management, 1D and 2D cutting optimisation,
NC steering. SCIA•Steel is modular soft-
ware with a view to increasing speed, quality and management efficiency of the steel constructor.
Innovative project management for the construction industry via the Internet