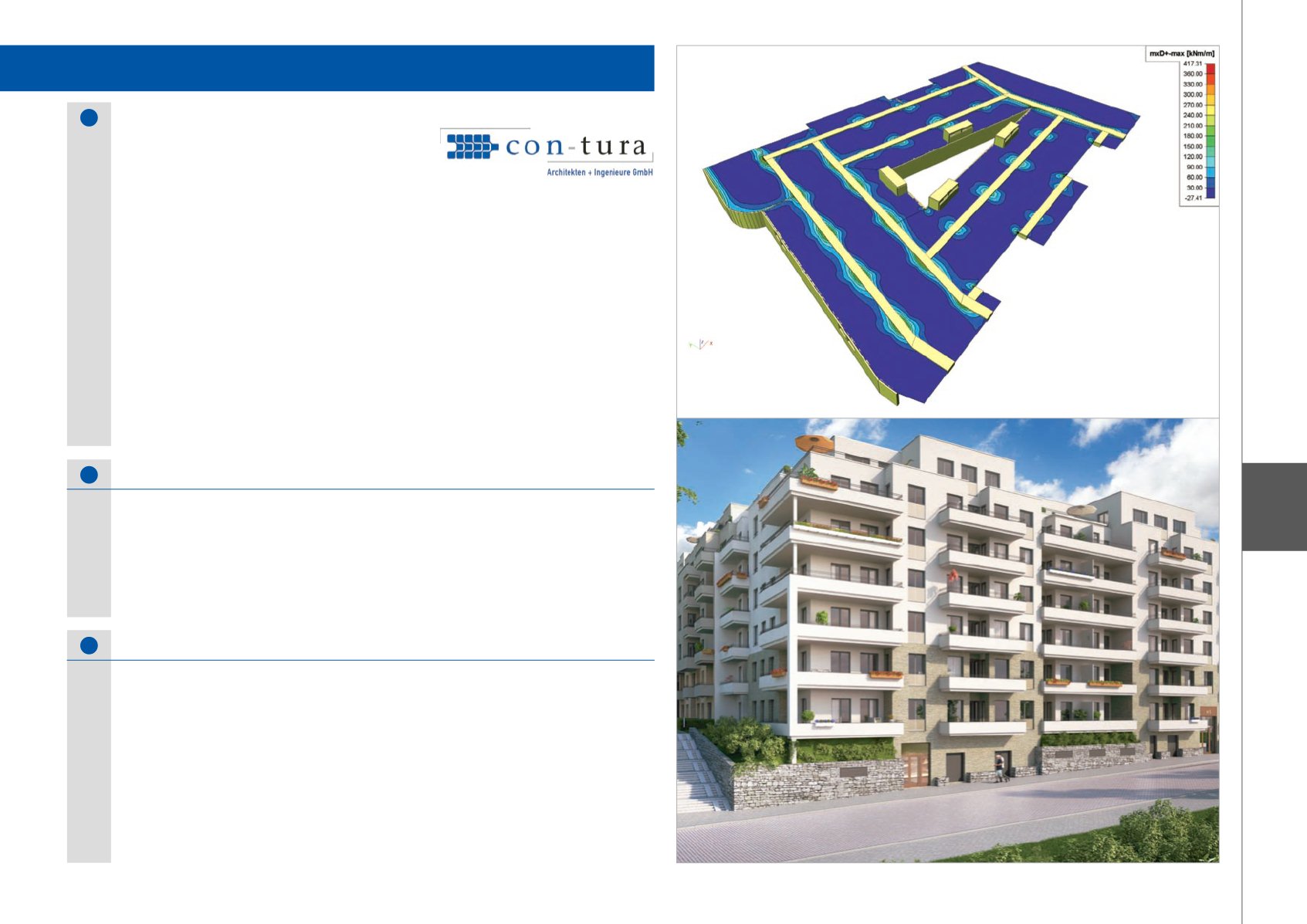 X
Nemetschek Structural User Contest 2013 - Category 1: Buildings
Category 1: Buildings
1
"Matthias Gärten", 7 Houses with Underground Parking
The newly built "Matthias Gärten" consists of 7 houses. Each house has 6 full floors, a staggered top
floor and a garage in the basement with 100 parking spaces. Seventy different floor plans, forming a
total of 154 apartments. The building plot has a height difference of about 4.5 m. In response to the
site conditions, the architect designed two main entrances at basement level. The 190 balconies are
designed and executed with 954 "Isokörben", which provides the required thermal separation in order
to meet the "KfW 70" Standards.
The challenging task was to design a high-quality residential building without any visible beams inside.
We produce all the necessary technical drawings of our construction in 3D format using Allplan 2013.
For static calculations we use Frilo and Scia Engineer.
con-tura Architekten + Ingenieure GmbH
J. Gröneveld, Dipl.- Ing.R.Meravý Murárik, PhD
con-tura: Fachkompetenz in Architektur, Tragwerken und Baukonstruktion
Gemeinsam mit unseren Auftraggebern aus einer ersten Idee erfolgreiche Projekte zu entwickeln und
umzusetzen: Das ist die Grundlage unserer täglichen Arbeit.
Als fachkompetenter Partner verstehen wir uns als Berater und Baudienstleister. con-tura erbringt in
diesen Funktionen alle Leistungsphasen des Städtebaus, der Architektur, des Baumanagements, der
Tragwerkplanung und der Bauphysik.
Wissen und Technik sind bei con-tura ständig auf dem neuesten Stand. Grundlage unseres Erfolges
ist das Fachwissen und die Motivation unserer Mitarbeiter. Mit den Erfahrungen aus unseren
Niederlassungen in Deutschland, den Niederlanden und der Slowakei bieten wir nicht nur regionale
Kenntnisse, sondern auch internationales Know-how, zum Mehrwert für unsere Auftraggeber.
Kondor Wessels Wohnen Berlin GmbH
Gregor Fuchshuber & Partner
Bautec Bauunternehmung GmbH
con-tura Architekten + Ingenieure GmbH