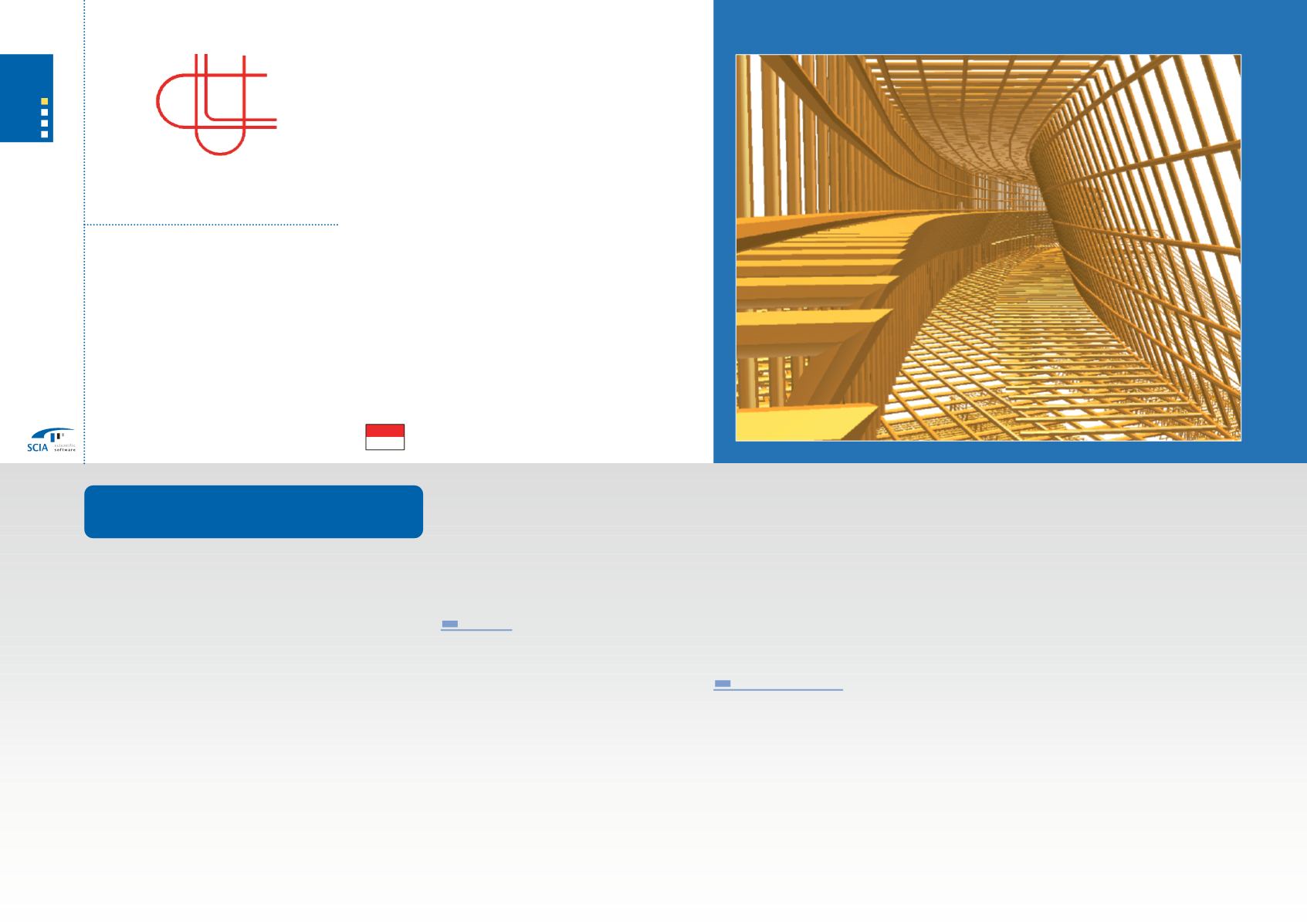 Roundabout Velmolenweg Uden
Structural Concrete Engineering & PT Baja
Engineering Indonesia are joint venture
companies for detailing structural concrete.
neering' is based in The Netherlands and is
responsible for the acquisition and the pro-
'PT Baja Engineering Indonesia'
tion facilities in Indonesia and uses Allplan
Structural Concrete Engineering & PT Baja
Engineering Indonesia were contracted by
Infra Consult & Engineering to execute the
detail engineering for the project:
: Provincie Noord Brabant
: Ballast Nedam Infra Zuid Oost
Structural Concrete Engineering & PT Baja
The project comprises the building of two,
fairly similar, tunnels for pedestrians with a
shell structure in between and a round-
The tunnels will be built inside a sheet wall
structure to secure the excavation and are
provided with underwater concrete at the
bottom to secure water pressure during the
Concrete Engineering and PT
Baja Engineering Indonesia executed the
detail engineering that included:
3d survey of contract drawings
preparation of dimension drawings
preparation of rebar drawings
preparation of bending schedules of the
The length of the two tunnels, running par-
allel underneath the roundabout is 155 m.
Each tunnel is divided into 7 sections, of
which 3 parts are closed with a deck struc-
At the connection with the shell struc-
ture in the middle of the roundabout, the
tunnel section has a large opening. From an
engineering point of view this is the most
interesting part of the tunnel. The shape of
the shell, curved in all directions, is connect-
ed to an inclined wall structure. The top of
the wall structure is also bent,
curves of the shell structure.
will be cast on top of the
under water concrete, they will be attached
The decks of part 3, 4 and 5 are supported
by the sheet wall structure.
The walls consist of inclined prefab concrete
elements that cover the sheet wall structure
Rain water and water from leakage is a col-
lected at the water containing structure in
part 2 of the west tunnel.
The project will be completed in June 2005.
Structural Concrete Engineering and PT Baja
Engineering Indonesia started this job with a
3d check on critical parts of the structure.
After the check and approval by our client
of our findings, the dimension drawings
were prepared. In total 45 A0 size drawings
were prepared for 11 tunnel sections and 1
After approval by our client of the dimen-
sion drawings, the rebar drawings
Again 45 A0 size drawings were
SCIA User Contest 2005 / Allplan Projects
Roundabout Velmolenweg Uden